All teens grade six and up are welcome to come and have fun! What will this year bring? Our meetings are at North Salem United Methodist Church, 389 North Main Street, Salem, NH. We meet regularly on sunday nights from 4 pm to 5:30 at the church.

Some highlights from last year's Youth Group program:
Making crafts, seeing movies, building snow sculptures, visiting Lazarus House, discussing current events, a Lock-In, and many other fun outings.
Youth Group News
September 2004
by Cindy Simms
The youth group got back together late this summer for an outing to Six Flags. In spite of the heat and crowds we had a wonderful time. Those who were there enjoyed catching up with each other after a long and fun summer.
While the youth were riding roller coasters and water rides, adults began discussions for next year, including service projects, time for fellowship and fun, fund raising and something we are very excited about, a possible mission project next summer. Of course we still have the Youth Center project to finish up! Our plan is to meet Sunday evenings from 6-8 pm with our kickoff meeting on September 19th. We look forward to our incoming sixth graders joining the group, and also will be sponsoring activities for all ages during the year.
Thanks to Laura Preston and Diane Stickney for their offer of help in leading the group next year. Thanks to Pastor Jan for her ongoing support and inspiration, Diane Boucher, for all her help, and of course the Women's Group and the church members for all of their support of us!
Youth Group
March 2004
by Cindy Simms
The Youth has had a very productive and fun winter season! It's such a pleasure to work with a group of Youth with such great energy and attitude and so committed to serving others. We worked hard to raise $250 in cash and supplies to donate to the Salem Animal Rescue League. Thank you to all our church family for their generous donations and support. We had a great day at the Preston's by the Lake, warmed by a bonfire and hot chocolate, with pizzas, S'mores, skating and relaxation among great company. Thanks, Laura and George and family!
This spring we are working on our Youth Center, cleaning, painting and fix-up. See dates below or our wish list if you would like to contribute to our efforts. We will also be organizing an Easter service project later in March, as well as a recycling project. Stay tuned for more information.
Thanks to Jeannie Kregger and Aletha Wood, and the Woman's Group for their donations and support, and the parents of the Youth who assist and offer goodies and ideas.
Wish List for the Youth Center
Pool table needs top resurfaced
New pool sticks and balls
A net for a ping/pong table
Ping pong balls
A large table
A coat rack
Thanks to Aletha Wood for getting East Coast Lumber to donate paint for the walls at the Youth Center. And thank you to East Coast Lumber!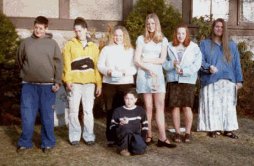 The Boy's Brigade
Called To Be Different Newsletter
Christian Teens from About.Com
The Council of Ecumenical Student Christian Ministry
Creative Concepts for Youth Ministry
Devo'Zine
The Division of Higher Education
EGAD! Youth Group Ideas
Interlinc
The National Youth Ministry Organization
Teen Challenge World Wide Network
United Methodist Loans and Scholarships
The United Methodist Student Movement
United Methodist Youth and Young Adults
Youth '99
Youth Ministry
YouthPastor.com
YouthScape
Youth Specialties
Youth Worker