Sunday School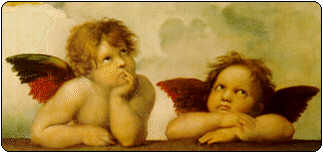 Links for Kids
Links for Adults
June 27-30 - Vacation Bible School
September 12th - Sunday School Kickoff with Blessing of the Backpacks and Ice Cream Sundaes
Great Truths from Small Children
No matter how hard you try, you can't baptize cats.
When your mom is mad at your dad, don't let her brush your hair.
The best place to be when you are sad is in Gradma's lap.
Our Sunday School program is offered year-round!!
The youth will be sharing what they are learning in class with readings, song, music and creativity. I will be looking for several older youth to read The Tale Of Three Trees, retold by Angela Elwell Hunt. All students will create ornaments for the church Christmas tree. I also welcome young singers or musicians to contribute a song they would enjoy sharing. This is tentatively planned for December 23rd during the regular Sunday service.
Sunday mornings 9:15-10:30.
Age 3 - 12th grade: We have 5 classes which are grouped by age.
We teach values. We work with the New Invitation Curriculum found in the Cokesbury catalog. The curriculum makes a connection between Bible scriptures and students' daily lives. Lessons are often followed by a craft project.
---
Our Schedule:
9:15-9:30 Begin with worship including children's moments with the Pastor.
9:30-9:40 Dismissal to Sunday School
Circle/Group prayer time- Children are invited to share their "joys and concerns". We say The Lord's prayer.
9:40-10:30 Sunday School classes
Annual Events:
Children's Breakfast - The teachers cook for the children.
Children's Choir - Youth practice and perform songs for the congregation on special occasions.
Bring A Friend Day - This often takes the form of a contest to see who can bring the most people; the adults or the children.
Valentine-making - Students make a valentine for another student. Everyone feels loved.
Children's Day - 2nd Sunday in June: A time to appreciate students teachers and school graduates. Each class shows what they've learned during the year with posters, skits and Bible readings.
Summer Sunday School - The children are welcome to join us in the summer!
Vacation Bible School - 1 week each summer, 9:00-11:00. For ages 3 and up. Call 898-8228 for info and dates. Activities include: Christian singing/movement, crafts, storytelling/puppetry, snack and outdoor games.
Fall Kick-Off for Sunday School - 2nd Sunday in September
Christmas Party - We share family traditions.
---
Sunday School Report
March 2004
by Dawn Trusty
Laura Preston, Cindy Mattia and Courtney Richert have joined us in our quest to reach out to young people and encourage them to follow Jesus and grow in faith at North Salem UMC. I am pleased to have them join us in teaching the word of God.
The spring curriculum "Exploring Faith" has arrived. It speaks to our children/youth by relating to their lives. Activities like puzzles are a fun and educational part of their learning. Unit 1 is titled "Alleluia". The students will learn God send Jesus and how much he loves us. Unit 2 is "Paul". The focus is on Paul, a follower of Jesus. Much can be learned about following Jesus' example from Paul's letters.
Let's learn about Easter The teachers will have a meeting March 14th. We will discuss improving attendance and how to best utilize our curriculum. Our focus will be to bring the Easter message to the youth. On Easter Sunday, we will share a storybook of the Easter story. They will come away knowing Jesus has risen. Young students will enjoy an egg hunt. Older classes will be challenged by puzzles or trivia based on the events leading up to and including Easter Sunday.
Youth get involved in worship Singing "Clap Your Hands" in the fall was a special moment from many students of our Sunday School. Currently we are working on learning the song "Beneath the Storytelling Tree." We look forward to sharing their lovely voices with you so stay tuned.
Liturgists I am pleased that the youth have been encouraged to be Liturgists. You can look forward to hearing Jessica Mattia, Jenny Barber, Kelly Lavallee, Christopher McDonald, Kathleen Stacey and Amanda Keeler who are our newest readers. New readers are welcome.
Children's Sunday Tentatively set for June 13th. That's right around the corner. We'd like to encourage all the children to come to Sunday School often. Our goal is to give out as many pins and year bars as we can. Pins are earned by students with good attendance. We also reward several students with best attendance ribbons.